The Global Women's Professional & Business Exchange Conference originally scheduled for Tuesday, March 17th in Accra Ghana has been rescheduled due to Global Health concerns with the Coronavirus.
The conference is to bring together business and professional women from all over the world to exchange and leverage their experiences in the fields of Healthcare, Finance, Legal, Business and Education, and a new sense of self-awareness, self-empowerment and self-leadership that crosses political, cultural, religious, and national boundaries.
Attendees include Executives from Global Corporations and Institutions with the shared goal of increasing the female participation and recruitment for high-level Board and Executive positions.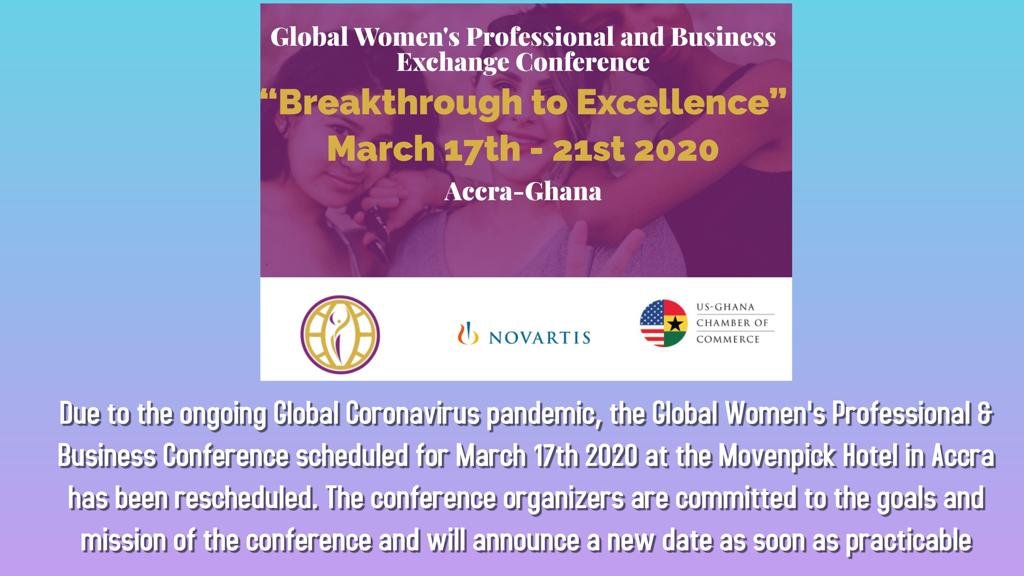 A statement from the organisers said "Females from the informal sector are highly featured in panel discussions to share valuable experiences that should be explored.
"Some sessions are held in the local Ghanaian dialects (with translation to English) to facilitate understanding and deepen these relationships. Cross-generational courageous conversations among females of all ages to further increase understanding and cooperation amongst participants are also encouraged".
The organizers say they are committed to organizing the conference and a new date will be announced soon.
Get real time update about this post categories directly on your device, subscribe now.