The First Lady, Her Excellency Mrs. Rebecca Akufo – Addo, has lauded the mining firm Gold Fields Ghana Limited, for their continuous commitment in developing the communities which host them.
The First Lady made this remarks, Wednesday, February 26 at Huni –Valley, a town in the Prestea Huni – Valley Municipality of the Western Region, during the official opening of the Huni – Valley Health Centre.
The refurbished health centre which was completed last year and now has 26 beds (used to be 6), Child Health Care Centre, two Consulting Rooms for Doctors and other departments is expected to provide health care to prospective patience than it used to.
Cataloguing projects which have been done by Gold Fields, especially the health facilities and quarters for health workers, Mrs Akufo –Addo said that was how corporate social responsibility should be.
She mentioned that Corporate Social Responsibility (CSR) must be geared towards enhancing the lives of host communities. Which in turn fosters the relationship between a company and members in operational areas.
"It is about an organization's commitment to a larger community which enhances the livelihoods of host communities", First Lady stated.
Commending Gold Fields Ghana, she said companies should care about the communities in which they operate in. This is because, development is a shared responsibility and does not only rest on the shoulders of government.
Mrs. Akufo – Addo noted, as it is in line with the vision of the Rebecca Foundation to improve health care for especially women and children, she was happy to see such a facility was in to improve the health conditions of a host community and border villages.
She stated that, the Rebecca Foundation since its establishment in 2017. has worked on some major projects such as the Mother and Baby Unit at the Komfo Anokye Teaching Hospital in Kumasi and the Paediatric Intensive Care Unit at Korle Bu Teaching Hospital.
Her Excellency, Mrs. Akufo –Addo later donated some medicinal drugs to the health centre and an ambulance, which she said would be delivered soon.
In his address, the Executive Vice President and Head of Gold Fields West Africa Mr. Alfred Baku, underscored the sustainable developments Gold Fields Ghana has done in the host communities since the establishment of the Gold Fields Ghana Foundation and believes, the mining company is changing the sustainable development agenda in Ghana.
Mr. Baku revealed that, the Foundation which focuses on five key areas such as, health, education, water and sanitation, infrastructure and agriculture, since its establishment in 2005 has invested over $66.5 million in those sectors.
The Executive Vice President made it known that, Gold Field's two out of the six core values, which are Respect and Responsibility have "shifted our focus to shared projects that have measurable sustainable impacts on our host communities"
Although he was worried about how some facilities put up by Gold Fields over the years appear not to have been taken care of, Mr. Baku again counseled community members and other stakeholders, to maintain the eleven projects which were completed in 2019 and being commissioned simultaneously, for generations to come.
"These projects, are sometimes, left uncared for, thereby denying community members the opportunity to continuing benefitting from these valuable projects. We have a firm belief that, our host communities will take ownership of the projects and ensure generations yet unborn also benefit from them", he stressed,
Mr. Baku told the First Lady, the Chiefs and other people gathered at the venue that, Gold Fields is willing to spend more on the health needs of host community members.
"We value the health of our host community members and we will continue to pump investments into this area", He assured.
An elated Chief, who also doubled as the Chairman for the event, Divisional Chief of Bosomtwe Nana Kwabena Amposah IV, gave a pat on the back of Gold Fields Ghana, for its numerous projects on his land and pledged to see to its maintenance together with the head at the Health Centre.
Later in an exclusive interview with modernghana.com, the Prestea Huni –Valley Health Director Mr. Emmanuel Kofi Tamakloe, expressed happiness at the improved state of the health centre and believes it would serve more patients than before.
Earlier in the day, the Akoon Park which now serves as home ground for Meadema and Karela Football Clubs in the Ghana Premier League, Aboso Library and ICT Centre and the Nana Angu II–UMaT road which has now lessened Tarkwa's vehicular traffic, were commissioned.
The other seven projects which were also being commissioned included, Brahabobome MA School Library and ICT Centre, Booboobo Community Centre, Gold Fields School Complex Kindergarten and Aboso Community Library.
The rest were Aboso MA School, Nana Amoakwa Model School ICT Centre and Toilet Facility for Kyekyewere Community.
The Gold Fields Ghana Foundation spent over eight (8) million Ghana Cedis on all the 2019 projects, which are scattered across the Prestea Huni –Valley and Tarkwa Nsuem Municipalities.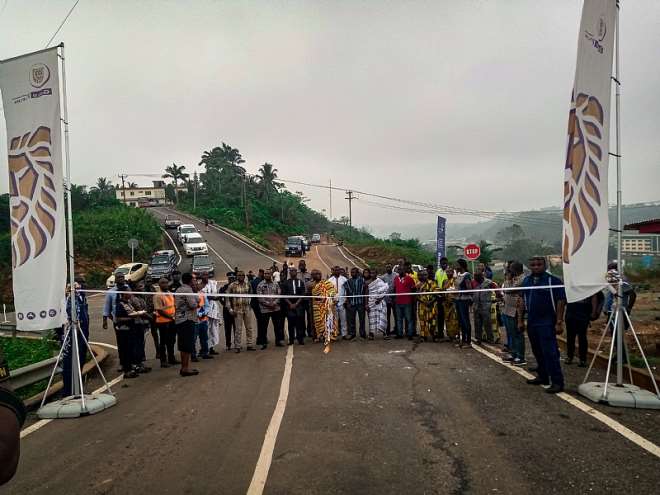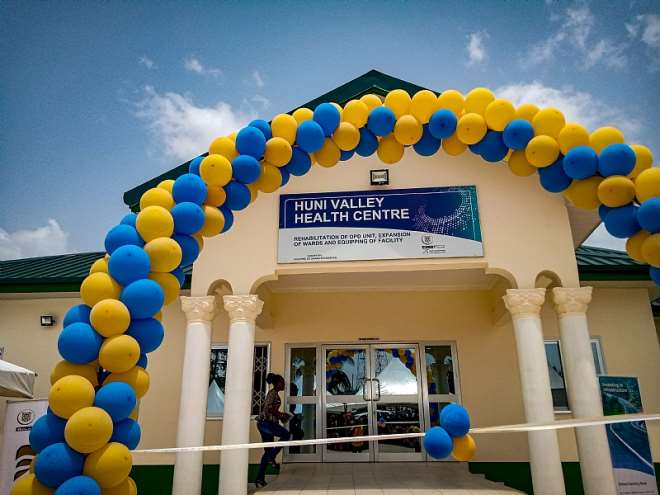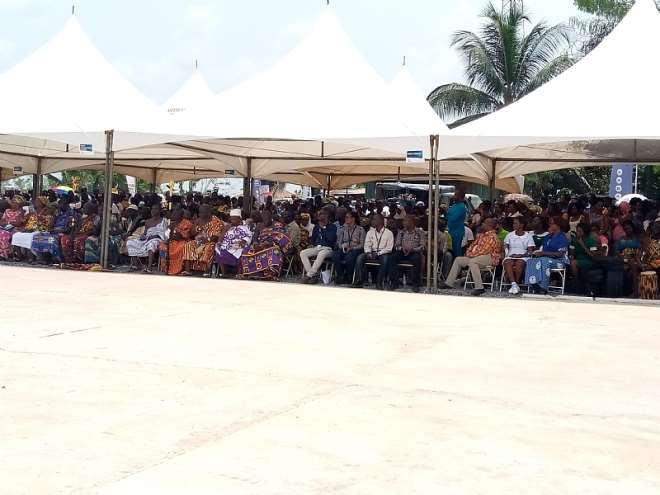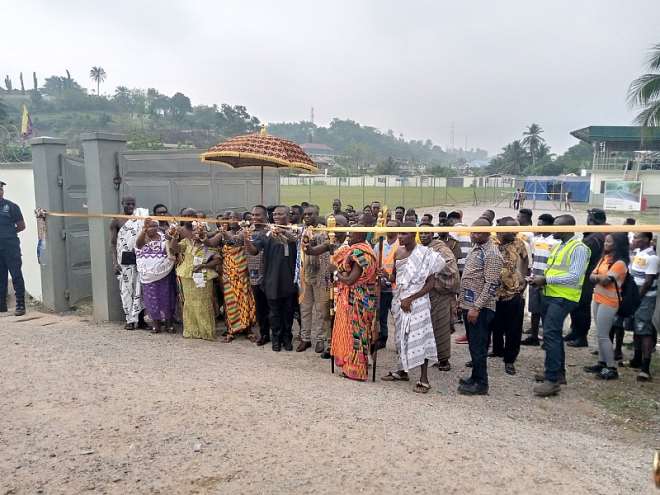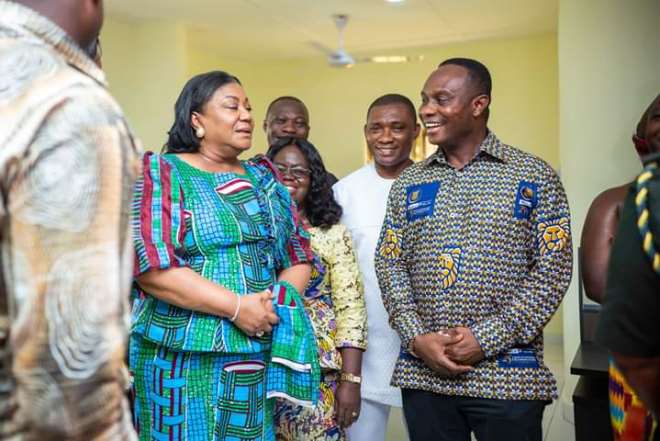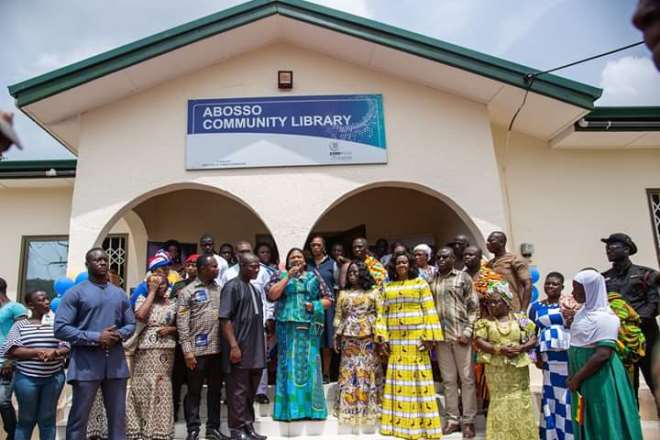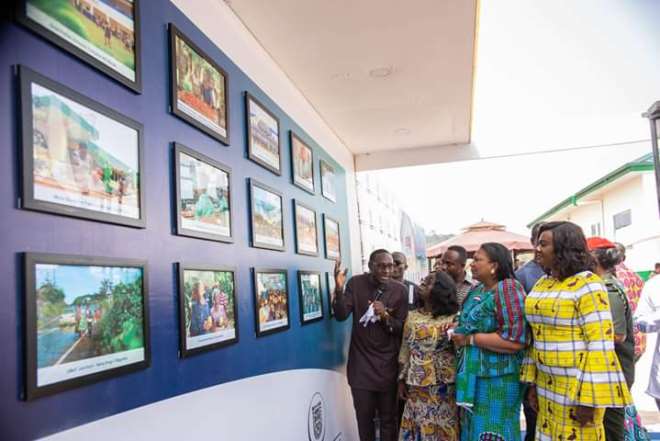 Get real time update about this post categories directly on your device, subscribe now.