Ghana's Foreign Affairs Minister Shirley Ayorkor Botchway has summoned the Chinese ambassador to Ghana over reports of inhumane treatment meted out to Ghanaians in China in the wake of the coronavirus pandemic.
Chinese authorities have reportedly started kicking out blacks from the Guandong province following a spike in imported coronavirus cases in the country.
A Ghanaian, Mary Frempong, living in Shenzhen who is distressed at the development taking place in the area told Kasapa 102.5 FM that blacks have taken shelter in the streets since local police began throwing them out from their homes.
"The situation here is very sad. Landlords have been sternly warned by authorities to eject black foreigners from their flats. Just yesterday, some two Ghanaians called to inform me about this same matter as they had spent the night in the vehicle of their friend who's a Chinese. He was kind enough to provide shelter for them in his car because he couldn't host them in his home. We don't know where to turn to or lay our heads. We've become outcast overnight. Life is really becoming difficult. You can't enter any shop neither can you patronize any social service just because you're a foreigner," she said.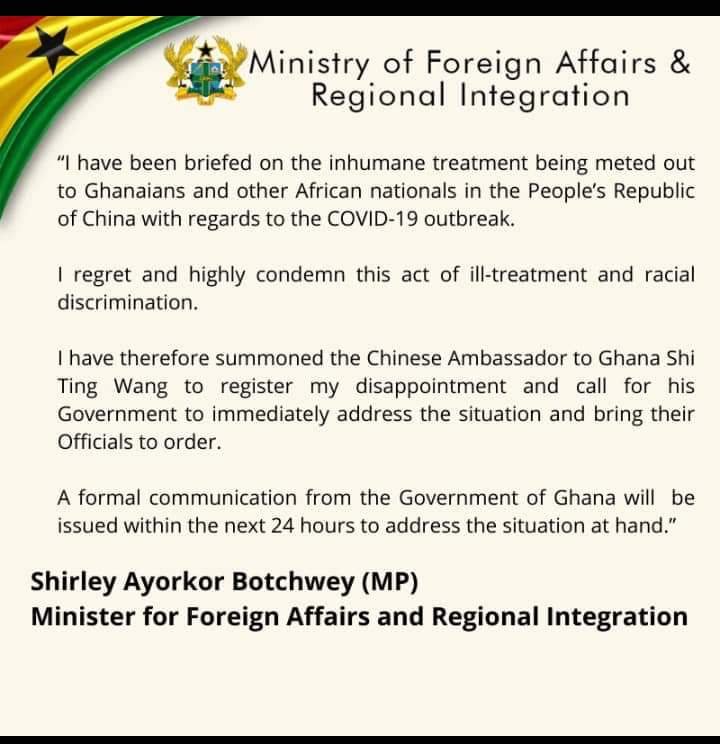 In a statement on the development, the foreign Affairs minister condemned the action and said government will probe for details and action.
Get real time update about this post categories directly on your device, subscribe now.