Musician turned political activist Kwame Asare Obeng popularly known as A-Plus has formerly written to the Special Initiative ministry requesting information on the recently purchased and distributed 375 ambulances by the Akufo-Addo government.
A Plus, acting through his lawyer Nii Kpakpo Samoa Addo, is asking for direct information on the procurement process used for the purchase of the ambulances.
A PLUS letter to the ministry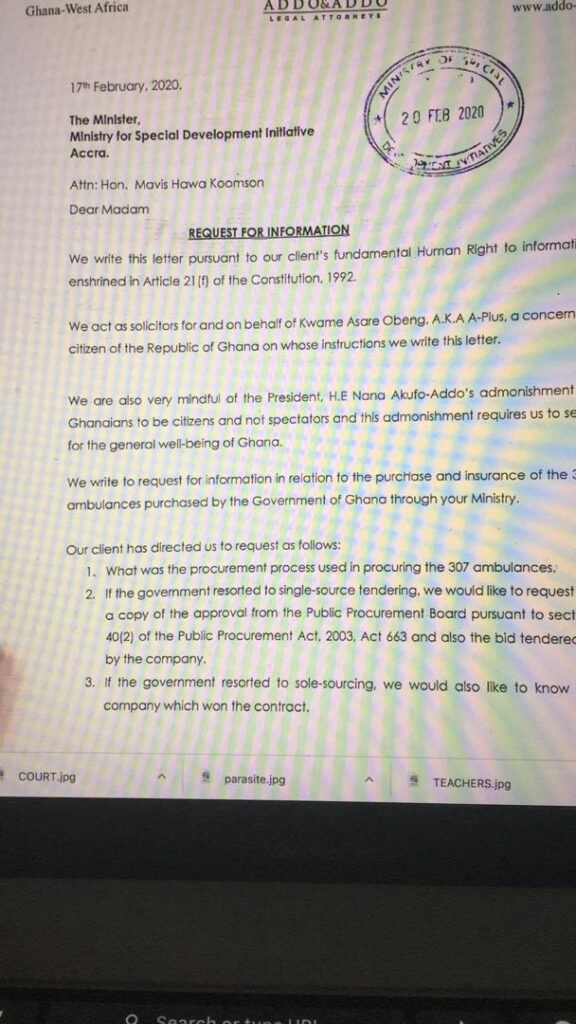 The development comes in the wake of the decision of the electoral commission to turn down a request by Ashaiman MP Ernest Norgbe who was demanding information on their procurement processes.
The legislature wantd to know the processes the Commission adopted prior to contracting the services of Dr. Ofori-Adjei, IT Consultant and Mr. A. Akrofi, Procurement Consultant; and whether the said procurement was done in accordance with Part 6 of the Public Procurement Act.
In a letter addressed to lawyer for the MP Martin Kpebu, the EC said the MP has not paid the necessary charges under the Right to Information law to enable him have access to the Information required.