Addressing the Dual Challenge: Balancing Food Security and Renewable Energy in West Africa with Sustainable Solutions"
In our rapidly evolving world, the demand for both food and renewable energy sources is soaring. This escalating need has sparked a fierce competition for land resources, a challenge that sits at the intersection of agriculture and energy production. This competition has given rise to tensions between those advocating for the rapid expansion of renewable energy projects and those voicing concerns about the repercussions on land pressure and social impacts.
Globally, the generation of clean electricity from renewable sources is projected to surge from 25% in 2017 to a staggering 85% by 2050 (IRENA, 2018). Yet, West Africa presents a unique challenge. A mere 14% of the population, have access to clean cooking fuels in this region. Alarmingly, 71% of these individuals reside in countries such as Nigeria, Ghana, Niger, and Mali. When it comes to electricity access, only 50.4% of the West African population is connected, leaving around 186 million people in the dark. Among these, 74% live in nations like Nigeria, Niger, Burkina Faso, and Mali.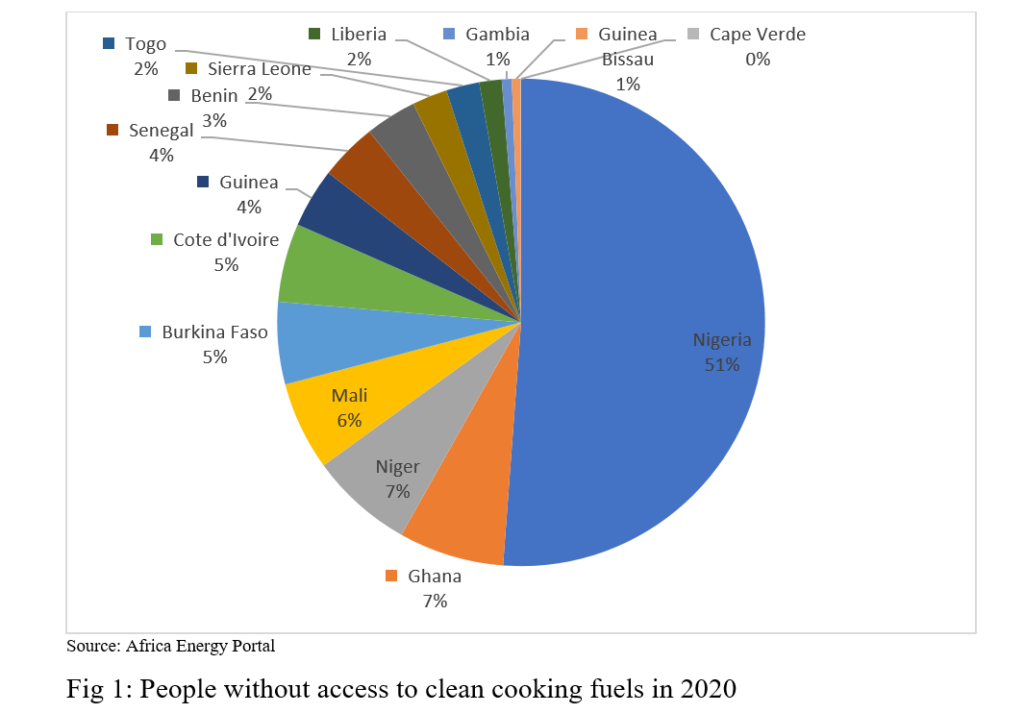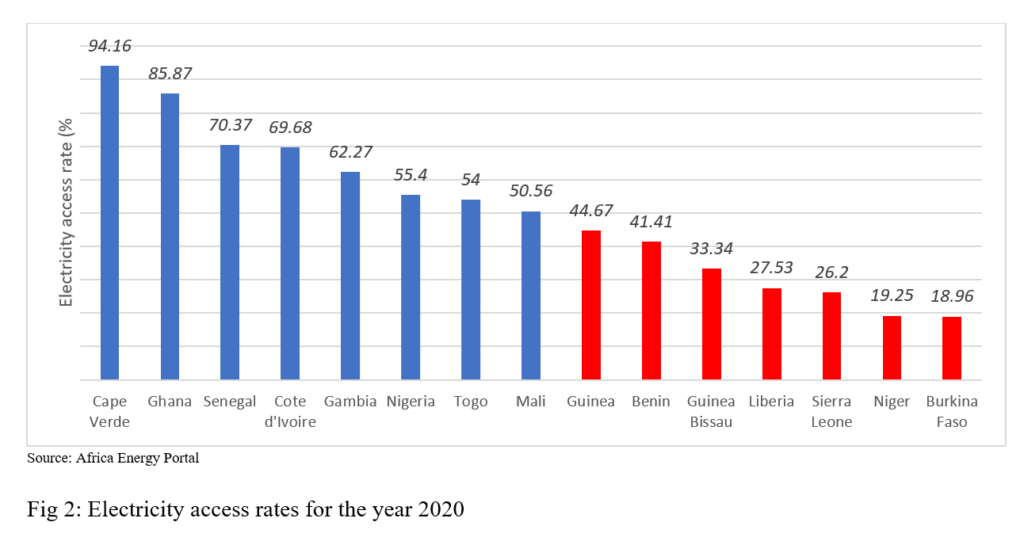 The daunting task of bridging the energy gap in remote and inaccessible areas, coupled with the limited capacity of communities to afford electricity while striving for essential energy services like cooking and lighting, has led to the exploration of decentralized renewable energy sources as a viable solution. Countries like Nigeria, Senegal, Mali, Burkina Faso, and Ghana have been proactive in pursuing solar and biofuel initiatives to expand energy access (AFDB, 2020).
Land Use Challenges in West Africa
The primary land use challenge in West Africa is currently centered around biodiesel production, rather than large-scale solar, wind, or hydropower installations. However, as electricity access increases through decentralized means, the region is poised to confront challenges related to these larger energy projects in the near future (Van de Ven et al., 2021).
One of the major stumbling blocks to biofuel development in West Africa is the lack of a unified vision shared by all stakeholders and a deficiency in coordination among public entities (Brinkman et al., 2020). This absence of cohesion has hindered the progress of biofuel technologies in most of the region's countries.
In countries like Niger, Benin, Senegal, and Nigeria, the implementation of bioenergy policies has amplified the competition for land resources. In Nigeria, for instance, this competition is particularly pronounced, despite the country boasting vast arable land spanning approximately 785,000 km². Factors such as inadequate agricultural wages, limited access to agricultural loans, subpar infrastructure, high entry requirements for agricultural education, and a preference for urban employment opportunities have contributed to a decline in agricultural interest. Consequently, this has added to the region's food supply challenges (Adewuyi,2020).
In Mali, the Jatropha sector remains in its early stages, and comprehensive assessments regarding its potential impacts on rural livelihoods and improved energy access are lacking. Ghana, while initially introducing solar power to address climate concerns and energy security issues, has unintentionally exacerbated social vulnerabilities in certain parts of northern Ghana. This has resulted in the loss of farmland and livelihoods for segments of the population. However, despite these challenges, a significant portion of the populace maintains a generally positive outlook regarding the solar park, recognizing the potential benefits of this renewable resource (Benegiamo, 2022).
Solutions for Competing Land Uses
To tackle the intricate challenges of competing land uses for food production and energy generation in West Africa, a comprehensive approach is needed. Several strategies can be employed to address these challenges and harmonize the conflicting demands for land resources:
1. Shift to Second and Third-Generation Biofuels: Transitioning to second and third-generation biofuels can alleviate pressure on food resources. Additionally, adopting intercropping practices, such as cultivating maize alongside jatropha, and utilizing non-edible, underutilized seed oils like Jatropha curcas, can contribute to a more sustainable balance between food and energy production in the region.
2. Agrophotovoltaic Systems:Exploring the potential of Agrophotovoltaic systems can significantly enhance area efficiency for both agricultural and energy production (Ketzer, 2020). These innovative systems combine solar power generation with agricultural activities, maximizing land utilization.
3. Integrated Planning and Stakeholder Engagement: Prioritizing integrated land use planning involving all relevant stakeholders, including local communities, is essential. A unified vision and effective coordination among public entities can help resolve land use conflicts.
4. Community Consultation and Land Rights: Projects involving large-scale biofuel or renewable energy installations should prioritize community consultation, obtain formal consent for land transfer, and provide fair compensation to affected households. Legal reforms protecting community land rights should also be considered.
5. Diversified Energy Sources: Promoting the use of diverse and sustainable energy sources, such as solar power, can reduce the competition for agricultural land. Utilizing non-competing spaces like rooftops and non-agricultural areas for energy generation can also help.
6. Monitoring and Regulation: Establish robust monitoring and regulatory mechanisms to ensure that bioenergy projects adhere to sustainability standards and do not lead to land grabbing or food insecurity.
7. Narrative and Public Perception: Foster a balanced public narrative regarding biofuel projects to facilitate a better understanding of their impacts. Efforts should be made to address concerns and misinformation that may hinder the success of such initiatives.
8. Continuous Food Security Improvement: Despite progress, ongoing efforts are necessary to improve overall food security indicators, even as bioenergy projects are developed. This entails continued investment in food production, distribution, and access.
 Key References
Adewuyi, A. (2020). Challenges and prospects of renewable energy in Nigeria: A case of bioethanol and biodiesel production. Energy Reports, 6, 77-88.; Okoro, S. U., Schickhoff, U., & Schneider, U. A. (2018). Impacts of bioenergy policies on land-use change in Nigeria. Energies, 11(1), 152
Benegiamo, M. (2022). A green economy failure?
Eguino, M. (2021). The potential land requirements and related land use change emissions of solar energy. Scientific reports, 11(1), 2907
IRENA (2018), Global Energy Transformation: A roadmap to 2050, International Renewable Energy Agency, Abu Dhabi.
Lamhamedi, B. E. H., & de Vries, W. T. (2022). An Exploration of the Land–(Renewable) Energy Nexus. Land, 11(6), 767.
Tracking SDG7/WBG as cited in AFDB 2020, https://africa-energy-portal.org/fr/database
Ketzer, D. (2020). Land Use Conflicts between Agriculture and Energy Production: Systems Approaches to Allocate Potentials for Bioenergy and Agrophotovoltaics (Doctoral dissertation, Department of Physical Geography, Stockholm University).
Van de Ven, D. J., Capellan-Peréz, I., Arto, I., Cazcarro, I., de Castro, C., Patel, P., & Gonzalez-Eguino, M. (2021). The potential land requirements and related land use change emissions of solar energy. Scientific reports, 11(1), 2907
Source: Myjoyonline.com