Analysing Qatar's over $200bn World Cup expenditure
$220 billion; that's the estimated cost of the 2022 World Cup tournament being hosted by Qatar.
Preparations for the 2022 World Cup began twelve years after FIFA made the unexpected and controversial decision to give Qatar the right to host the event. The Gulf state has massively spent on it, making it the most expensive ever.
The estimated $220 billion to have been spent on this year's World Cup tourney, is more than 15 times the amount spent by Russia during the 2018 World Cup.
Cumulatively, $291 billion has been expended on the World Cup competition since the maiden edition held in Italy- 1990, with this year's tournament accounting for 75.6% of the total amount spent within this period under review.
In simple terms, Qatar has spent three times the total cost of all other World Cup events since 1990.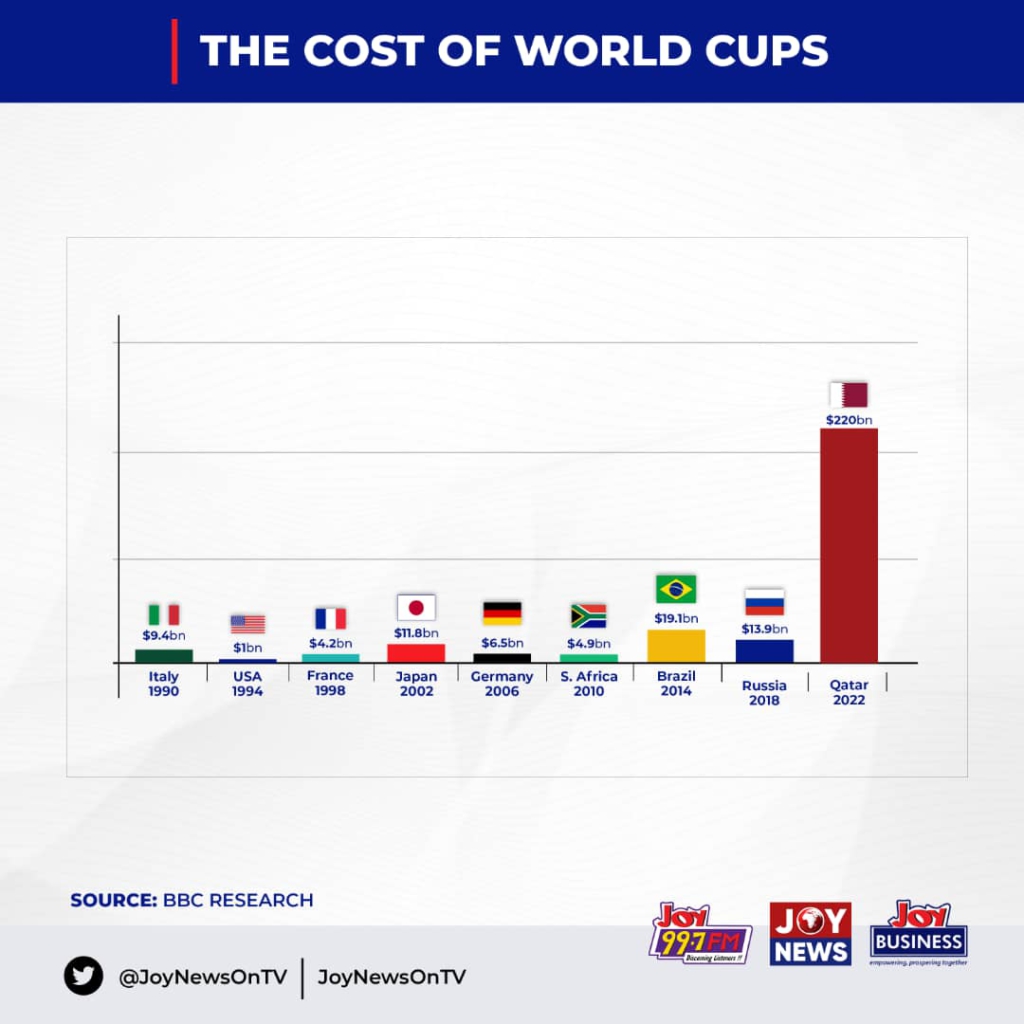 Let's work out some numbers:
If I decide to inflate the cost of all previous world cups by $5 billion, the total cost will still be $109.2 billion less than the amount spent to put together this year's World Cup. In fact, the balance will be enough to reorganize all world cups from 1990 to 2018.
But why such a high cost?
Qatar is geologically compact. It is 20 times smaller than Ghana and two times smaller than the Ashanti region, with a population of less than 3 million. Qatar is the smallest country to host the world cup.
In terms of key cost drivers, one of the most apparent issues is the stadiums. Seven of the eight venues have been built from scratch. The government says the cost of constructing them is $6.5 billion.
The most significant proportion of the billions the Qatari government has spent in advance of the tournament is on non-football infrastructure, including a new metro system, an international airport, new roads, about 100 new hotels, and recreational amenities. The majority of such expenditure is a part of Qatar National Vision 2030, a more extensive programme for public investment in the Gulf nation.
FIFA's projected revenue
According to FIFA's 2022 budget, the World Cup is projected to bring in revenue worth $4.7 billion. Ticket sales and hospitality rights will rake in $500 million, $2.64 billion from TV broadcast rights, and $1.35 billion from marketing rights.
The total costs covered by FIFA for this year's World Cup is pegged at $1.7 billion, with the largest expenditures being prize money, operational expenses like hospitality and logistics ($322 million), and TV operations ($247 million).
Source: Myjoyonline.com