Awake Purified Drinking Water, a product of Kasapreko Company Limited, has donated an amount of GHC 75,000 to the Cardiothoracic Center of the Korle-Bu Teaching Hospital. The presentation to the Center was supported by celebrities such as Bola Ray, Nana Ama McBrown, Dope Nation, Kwame Eugene, Comedian OB Amponsah.
Awake Mineral Water's donation to the cardio center is a regular activity the brand has been embarking on for the past three (3) years as part of its Corporate Social Responsibility drive. The regular donation is aimed at paying for the medical bills of needy patients at the Center who require financial support to fully pay for their surgery and treatment. The funds are basically generated through the sale of every bottle of water purchased.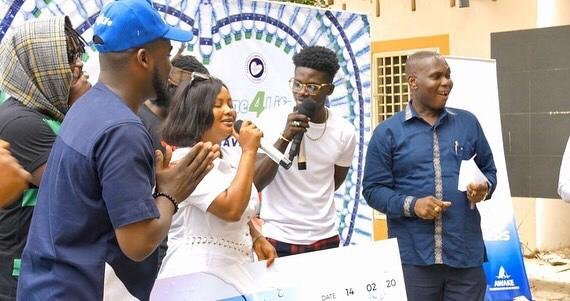 Speaking at the presentation ceremony, Mr. Chris Addo-Sarkodie Marketing and Sales Manager for Awake Purified Drinking Water indicated that, "Giving to the National Cardiothoracic Centre on Valentine's Day speaks about the brand's love and genuine affection for our consumers. Kasapreko Company Limited identifies and understand the difficulties and challenges one faces when living with heart diseases hence, our confident decision to collaborate with these likeable celebrities who are admired by many and wishes to put smiles on the heart patients on this special occasion". He commended the good job the Cardio center is doing with the funds that are periodically sent to the unit and also appreciated the celebrities for joining the charity event at no cost to the organization.
Receiving the cash cheque, Dr. Lawrence Sereboe, Director of the Cardio Center expressed his appreciation to Mr. Kwabena Adjei – Founder of Kasapreko, Richard Adjei – MD of Kasapreko, Gerald Bonsu – Commercial Director and the entire management of Kasapreko Company Limited and Awake Purified Drinking Water for the kind gesture. He also expressed his appreciation to Ghanaians for contributing to this great cause through their purchase and to the Ghanaian Celebrities who joined the cheque donation and visited the wards.
Kasapreko Company Limited is an indigenous total beverage company which produces Alcoholic, non-alcoholic and Water to serve the people of Ghana. The company has been in existence for more than 2 decades and is the number in beverage company in Ghana.