The Ghana Library Authority (GhLA) has embarked on a nationwide 'Read Walk' campaign to create awareness on reading, and the existence of public libraries in the country.
The walk which forms part of activities to mark the 70th Anniversary of the Institution was under the theme, 'A sound mind for knowledge acquisition.'
In an interview with the Executive Director, Mr. Hayford Siaw, he indicated, "promoting literacy and life-long learning is at the heart of the Institution and so we embarked on this walk to raise awareness on reading and encourage Ghanaians to make good use of the 71 public libraries across the country because they function effectively."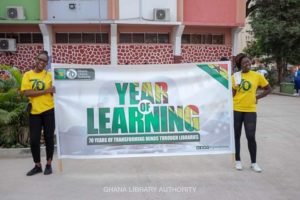 The nationwide walk brought together GhLA staff, management and some patrons who walked through the streets amidst music and dancing, coupled with the display of placards and the sharing of brochures on the Library's services across the country.
In recognition of the role of Bibliotherapy in healing and its importance for children, the team in Greater Accra as part of the walk, made a stop and donated books to children at the Pediatric department of the Greater Accra Regional Hospital and subsequently held a brief reading session with some of the children.
The situation was not entirely different from Cape Coast, as the team also donated books and consumables to the Ankaful Prisons.
In Bolgatanga, Kumasi and Koforidua, the walk ended with an aerobics session primarily to encourage physical fitness and overall health and wellness among staff.
The GhLA has declared 2020 as its Year of Learning under the theme, '70 years of transforming minds through libraries', to encourage Ghanaians to read to acquire knowledge and enhance their skills.
The areas of focus for the Year of Learning include improving service delivery through technology, promoting literacy and life-long learning, increasing footprints and book stock, and renovating public and SHS libraries.