How does Qatar's royal family spend its US$335 billion net worth? The House of Thani, who banned alcohol at the World Cup, splurges on a VIP airline, yachts and even football club Paris Saint-Germain
The Doha Royal Palace cost US$1 billion to build and the emir also dabbled in art collecting, buying pieces by Andy Warhol and Cézanne
The royal family owns The Katara – one of the most expensive yachts in the world – super cars like Bugattis and Lamborghinis, an exclusive airline and football clubs like Paris Saint-Germain
All eyes are following the ball at the Fifa World Cup 2022 in Qatar at the moment.
The small country in the Middle East was selected to host of the championship in 2010, thanks in part to the efforts of the royal family, the House of Thani. It reportedly spent US$300 billion on infrastructure and stadiums in 12 years to prepare for its World Cup dream, the most expensive of its kind ever, according to Bloomberg.
The Qatari royal family hasn't been in the best books though. It demanded a total ban on the sale of alcohol at World Cup stadiums just hours before the tournament began, according to Daily Star. The preparations before the event also prompted plenty of scrutiny due to human rights abuses.
Headed by Emir Sheikh Tamim bin Hamad Al Thani, Qatar is known as one of the wealthiest surviving dynasties in the world. With about 8,000 members, the family has a total net worth of about US$335 billion from multiple cash flows besides rich natural resources, including investments in properties like London's Shard skyscraper, Olympic Village, Harrods department store and New York's Empire State Building, and stakes in Barclays Bank, British Airways and automobile company Volkswagen.
So how does the family spend its mega fortune?
How rich are the Dubai Bling cast members really?
14 Nov 2022
Golden palaces, of course, and three London properties
Qatar's royal family lives in the Doha Royal Palace, which is covered in gold, no less. It consists of 15 different palaces and a car park for over 500 cars, costing about US$1 billion to build, Traveler's Top estimated.
In 2019, the emir also built another white palace in Oman that consists of similar materials used for the Doha Royal Palace.
On top of that, in 2013, Sheikha Mozah bint Nasser Al Missned – one of the three wives of the former emir – bought three houses in Cornwall Terrace in Regent's Park, London for some US$140 million, according to British media. The plan is to convert them all into a super mansion with 17 bedrooms, 14 lounges, a cinema, a juice bar and a swimming pool, per BBC.
Super yachts
When the Qatari royals aren't at home, they are probably lounging in the sun on one of their "floating palaces". The emir reportedly owns The Katara, one of the world's most expensive and largest mega-yachts. With a price tag of nearly US$400 million, it is 124 metres long with a helicopter pad and several decks that can accommodate up to 35 guests and 90 crew members, according to British media.
Meet Saudi Arabia's game-changing Princess Haifa
26 Sep 2022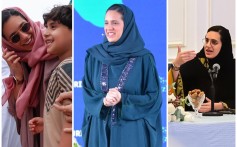 And that's definitely not their only yacht. Back in 2019, Megayacht News reported that a fire at a shipyard in Doha destroyed three yachts belonging to the royal family, which cost dozens of millions each.
Not just private jets, but a private airline
The royal family are masters of the sky too, no doubt. In 1977, it founded an exclusive airline, Qatar Amiri Flight, which serves only royal family members and high-ranked government staff of the country. According to Plane Spotters, the airline currently has 14 aircraft, including three jumbo Boeing 747-8, the brand's most expensive commercial jet that costs over US$400 million each.