It's no secret that cash-flowing assets are the path to financial freedom
"I was stupid in a business way. I should have been greedier."
Can you guess who said that? You might be surprised to hear it was Stan Lee of Marvel Comics fame. He said in an interview with the Hollywood Reporter in 2016.
Many people associate Stan Lee with Marvel Comics, but it might come as a surprise to you that Stan was actually never an owner of the famed comic franchise. Rather, Stan worked his way up starting as an errand boy and eventually becoming the publisher and Editor-in-Chief. Along the way, he created many iconic characters for Marvel, including The Fantastic Four, Spider-Man, The Incredible Hulk, the X-Men, and Iron Man. But he never owned any of them. He was the perfect example of a high-paid employee.
As a high-paid employee, Stan Lee helped Marvel overtake DC Comics as the top comic brand in the world, which eventually led to a $4 billion purchase by Disney in 2009. What did they buy? The rights to the brand and Stan's characters. What did Stan get? Nothing.
Since purchasing the rights, Disney has put out smash hit after smash hit, with total box office earnings well over $20 billion dollars. And that doesn't even count the merchandising.
SINCE DISNEY'S PURCHASE OF MARVEL COMICS IN 2009, THE COMPANY HAS TURNED A $4 BILLION DOLLAR PURCHASE INTO WELL OVER $20 BILLION AND COUNTING.
HOLLYWOOD REPORTER
As Money magazine reported in 2018, "Lee said he regretted signing a contract with Marvel in 1998 that supposedly would pay him a share of the profits from movies and TV shows based on characters he created. In 2002, he wound up suing Marvel, claiming he hadn't been given his proper share, and a few years later was awarded 10% of the profits from films like 'Spider-Man'. He also reportedly received $1 million in annual compensation as Marvel's chairman emeritus."
All-in-all, Stan Lee is estimated to have died with a net worth between $50 to 80 million. That's a lot of money, but the Marvel empire? Well, let's just say it's far more than the $4 billion Disney paid for it.
What's the biggest difference between Stan Lee, who was wealthy, and Disney, a company in the elite status of wealth? Stan got paid for what he created. Disney gets paid on the derivatives of those creations. In other words, they get royalties. Stan got a pension.
The world's wealthiest people make money out of thin air
What is a royalty? Nothing more than money that comes out of thin air. In short, people make an artifact like a song, book, or movie, and then they make money each time it is used. They never have to do anything with it again. The work is done and it makes money into perpetuity.
"
THE POOR AND MIDDLE CLASS WORK FOR MONEY. THE RICH HAVE MONEY WORK FOR THEM"
I do the same thing with my books. For instance, Rich Dad Poor Dad was published in 1997. Since then it has sold over 32 million copies. It still is in the top ten charts on Amazon. Each time the book sells, I get paid. Of course, I have many other books and assets that continue to do this for me.
In the same way, Disney makes an investment in a movie and the marketing of that movie, and then it hits the box office and the money pours in for years and years. Marvel will continue to pay handsomely for decades and they will make back their $4 billion many times over.
It doesn't just have to be a book or a song either. Real estate, business, and many other investments allow you to collect cash flow and get paid, even when you're not working.
Best yet, it's the lowest taxed form of income (passive income), and the money made from those investments allow you to invest in even more assets, a concept called the velocity of money. Velocity of money means that you use the money your assets make for you to purchase more cash-flowing assets, so your wealth grows exponentially.
Let's explore how making money out of thin air works with something as simple as comic books.
The world's wealthiest people share a different mindset
Let's get back to comics, though on a smaller scale. For the rest of this post, I'm going to show you how as a young boy I made money out of thin air with comic books. All it took was a different mindset.
When I was a young boy, I worked at rich dad's convenience store for three hours each Saturday with my friend Mike, rich dad's son. The work was mind numbing. Since there was no air conditioning, we had to leave the store doors open to try to keep the store cool. This meant we had to dust the shelves every time a car drove through the parking lot.
In return for this work, rich dad had agreed to pay us $0.30 per week—along with a promise to teach us how to be wealthy.
"
EVERY WEEK, I'D COLLECT MY MONEY, BUY SOME COMIC BOOKS, GO HOME, AND WONDER WHEN RICH DAD WAS GOING TO TEACH US HOW TO BE WEALTHY."
Every week, I'd collect my money, buy some comic books, go home, and wonder when rich dad was going to teach us how to be wealthy. As the weeks went on, I always got my money in exchange for my work, but I never got the lessons on how to become wealthy. Tired of getting paid poorly, I decided I was going to quit.
When I told rich dad, he said, "Now you're ready to learn."
He went on to explain that our desire for more money had the effect of blinding us. Rather than see opportunity, we let our lack of money give us tunnel vision. The only option was to have him pay us more. We were working for money.
The Rich Dad Balance Sheet and the 90/10 riddle
Rich dad sat Mike and me down and drew a financial statement, what we now call the Rich Dad Poor Dad balance sheet. It's a dead simple way to see where you stand financially.
"Have you heard of the 90/10 riddle?" rich dad asked. "Ten percent of the world's population holds 90 percent of the world's wealth. Do you know the riddle they ask themselves each time they look at a financial statement like this?"
Mike and I answered that we did not.
The world's wealthiest people don't work for money
A while back, I was working with some brilliant students in the entrepreneurship program at the Thunderbird School of Global Management. During the sessions, I asked one of the students, "What is your investment plan?"
Without hesitation, he replied, "When I graduate, I will find a job that pays me at least $150,000 a year and will put aside at least $20,000 a year to buy investments."
"They ask, 'How can I fill my asset column without any money?'"
This student, while offering a plan that was better than most, was still thinking like the 90 percent of people who will never see the money that the world's wealthiest people see.
My challenge to him was, "Is the idea of buying assets with money a 90/10 idea, or is it an average investor idea?"
We both agreed it was an average investor idea. I went on to explain one of my rich dad's important financial lessons: "The world's wealthiest people don't work for money."
The world's wealthiest people make something from nothing
Ok, back to comics.
After rich dad's lesson at the convenience store about the 90/10 riddle, Mike and I worked at his store for a couple weeks and noticed that the store manager would take the older comics, cut the covers in half, and give them to the distributor for a credit. This gave us an idea.
When the distributor came in to pick up the old comic books, we asked him if we could have them. Because we worked at the store, he said yes, but only if we didn't resell them.
READY TO CREATE INFINITE WEALTH?
Get started by watching this exclusive video from Robert Kiyosaki… for free.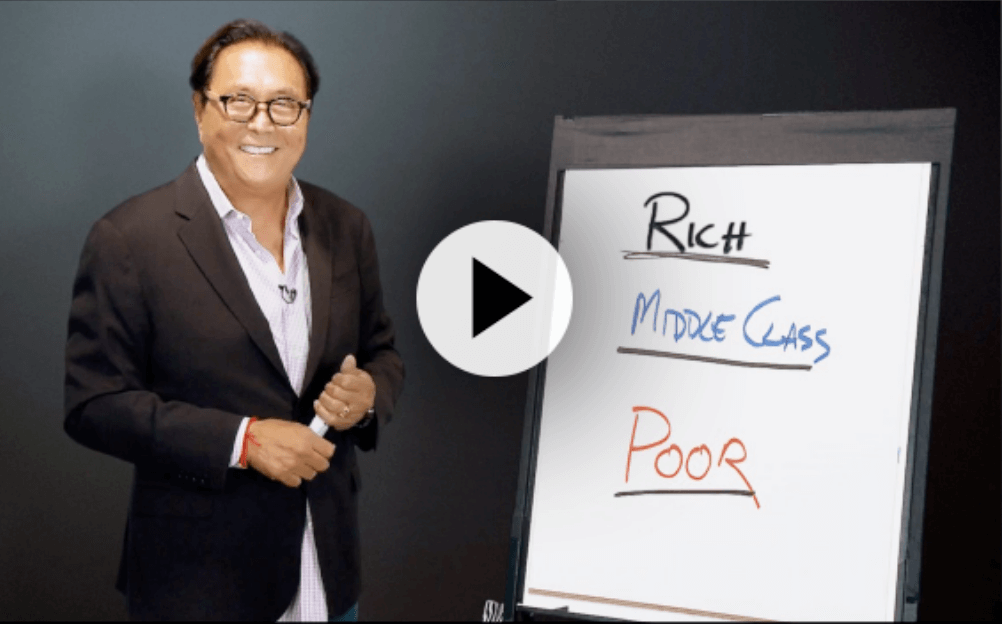 Choose to be rich here
Keeping our end of the bargain, we didn't sell them—we rented them out. Using a spare room in Mike's basement, we stockpiled hundreds of free comic books, and each Saturday we opened our library from 2:30 to 4:30 p.m. to the kids in the neighborhood. Admission was $0.10 a day, a steal since each book was $0.10, and you could read five or six in the two hours we were open.
As things got rolling, we averaged $9.40 per week—a lot more than the $0.30 we were making each week at the store. But we would never have had the opportunity had we not worked there and had our eyes open to opportunity. The best part of our new venture was that we made this money even if we weren't at the comic library.
As I shared this with the student from Thunderbird School of Global Management, I asked, "Were those comic books assets?"
Wisely, he answered, "Not until you turned them into assets. You took something that was being thrown out as trash and turned it into an asset."
What this student recognized was that my ability to recognize opportunity and to make something into an asset was the real asset; that's how successful investors know how to make something from nothing.
So, what will you make today?
Source:Rich Dad