Inside a reception area, with a line of freshly washed and ironed laundry, Rhoda Lamptey prepares new items brought to the company for cleaning. It is part of the routine here, but on this day she stumbles on something unusual.
When the 24-year old lady picks an ash pair of trousers, she discovers more money than she has ever seen in her life: $1,400.  At the nearest forex bureau, that is almost GH₵ 8,000.
Her prayer, after taking up this job, was to save enough and go back to school to chase her ultimate dream in life.
Was this God's answer to her prayer?
No! She did not and does not think so.
It was a test of her faith, integrity, and her commitment to the values of her new employer, she tells theghanareport.com at the company's Roman Ridge office in Accra.
She didn't think twice about what to do with the money.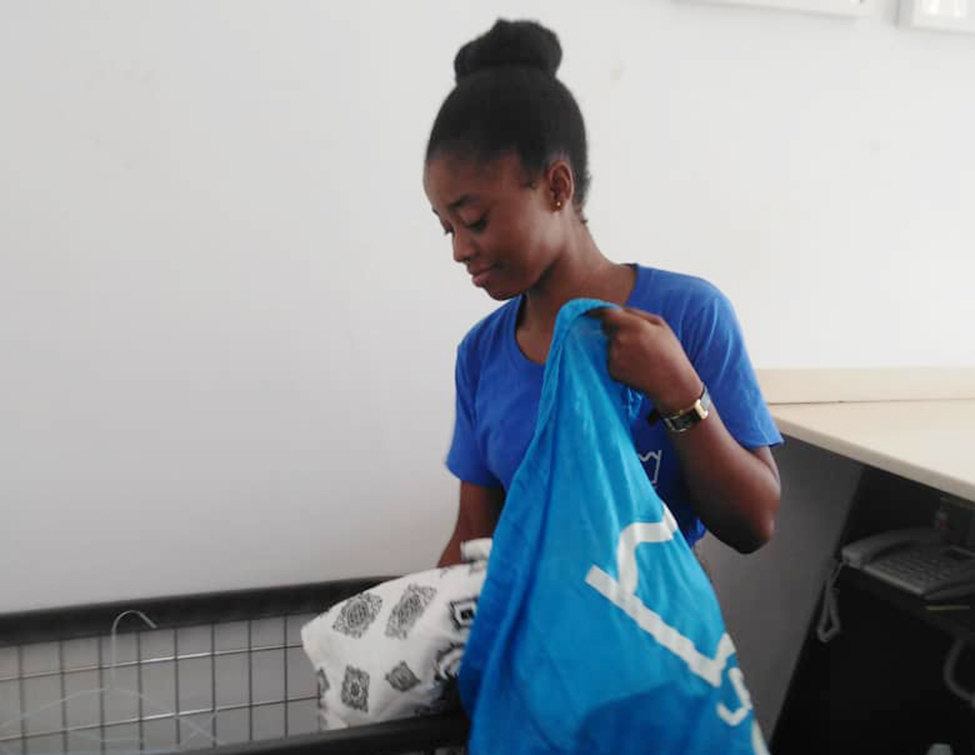 It was a typical afternoon in the Haatso branch of Laundry Chief, where Rhoda works. She was alone, and out of the view of the CCTV.
"A customer came in with his items and was in a hurry to go. He didn't take his receipt, but after he had left, I was supposed to enter his data into our system and ensure that everything was intact," she recalls the happenings of January 16, 2020.
"I picked up his items and, while going through them, I found $1,400 in his trouser's pocket. I hadn't seen that money before. But when I took it, the first thing that came to my mind was our values, that is integrity," Rhoda says.
She goes on, "Aside from being a Christian, I told myself I needed to be faithful to God and be faithful to our company and myself as well. I took the money and gave it to our supervisor to be handed back to the customer.
"Because we've been trained on our values, such as humility, integrity, efficiency and so on, I sent the money to her and what was supposed to be done was done."
Rhoda comes from a poor home and badly needs money. She, however, believes it is better not to have money than to have it the wrong way, to have what does not belong to her.
"If I call myself a Christian, I have to do what I did. I wasn't doing that to please myself but because I fear God," the product of Mfantsiman Girls Senior High School says, smiling.
A daughter of an electrician and a housewife, Rhoda holds a diploma in Hospitality Management from the Hill City College on the Spintex Road in Accra.
Asked what she would do with 8,000 cedis, she pauses her smile and responds, "I would go back to school. I will use it to further my education. But that doesn't mean I should use someone's money to further my education. I have to work very hard to further it, and I'm trusting God that He will open a way for me to continue."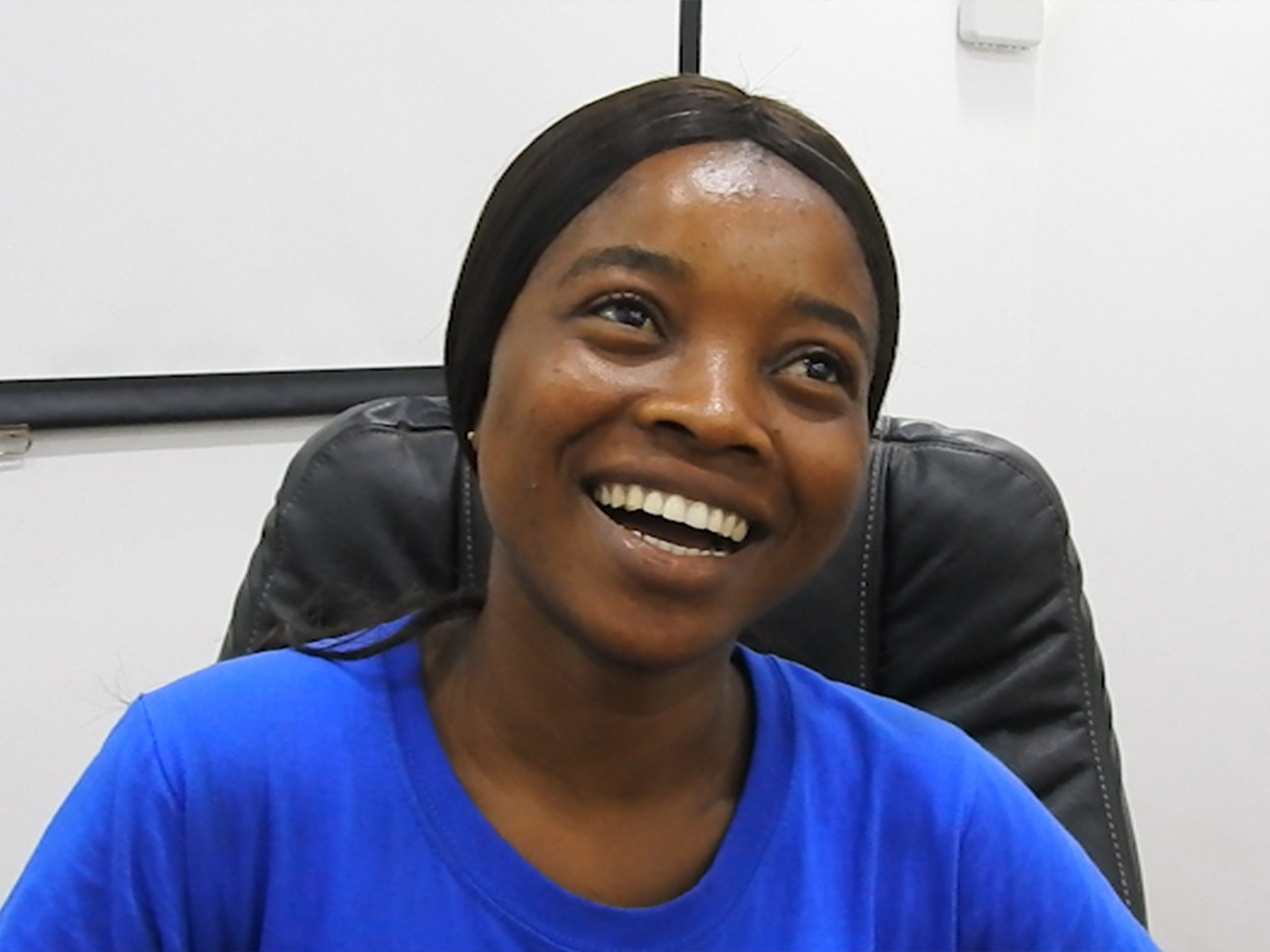 Full of giggles, the member of Mount Calvary Cross Ministry said "I can't steal this money and feel comfortable when I go to church. It will be a burden on me. I wouldn't know how God will see me. If you want God to do something for you, you can't just go and steal and expect God to do it for you."
Mixed Reactions to an Honest Act
Laundry Chief rewarded Rhoda for her honesty and took to social media to celebrate her for being an apostle of integrity. That won her applause on social media and among her work colleagues and friends. Her parents praised her, but she got scornful scolds from some of her cousins.
"When they saw the pictures on social media, questions started coming from my cousins. They said so I got this money and returned it? They asked what was wrong with me?" she recalls.
The ever-smiling twin says she has no regrets. She's happy to have done what every Christian should do—living aright with God, once's employers and conscience.
She says although she is not from a rich background, her parents, particularly her father, have taught her and her two other siblings to be content with what they have.
The customer whose money Rhoda found, Dr Cyprina Wenyonu, is full of praise for her and Laundry Chief.
"I didn't realise I had lost the money until they called. I knew the money was in a shirt, but I couldn't remember where. I was surprised when they called that they had found my money. It wasn't in cedis. It was in dollars and someone could have easily picked it and made a fortune out of it without reporting it.
"I've met her [Rhoda] a few times, and I'm very impressed. It shows that all is not lost because there are still a few people out there who are still forthright and honest," he tells theghanareport.com.
Although the $1,400 was her biggest temptation, Rhoda says she has had a similar situation at TAYSEC, her former place of work. A client visited the workplace and while removing something from his pocket, a wad of cash fell from his pocket and she drew his attention to it.
"He was leaving. He didn't know," she recalls.
Company impact
Even though she has spent only four months at the company, Miss Lamptey says Laundry Chief has impacted her life positively.
"I didn't know I'll be where I am now. The values we were thought have taken me far and I'm so grateful for that."
The company and the client whose money she returned have since rewarded her with a package that she says is "handsome" but declined to disclose it.
"Sometimes, you might be working for people and think of stealing from them. It will not help you. If you call yourself a Christian, you need to walk aright with God and be faithful to yourself, your company and your manager, or whoever it may be. You don't know where you will reach in life," she says to people who find themselves in her situation.
"Just be faithful to God and yourself and he will never disappoint you. I always tell myself that so far as I worship God, He will never disappoint me in life. Whatever, promise he has about my life, it will surely come to pass. You should be honest in everything you do," she adds clasping her hands.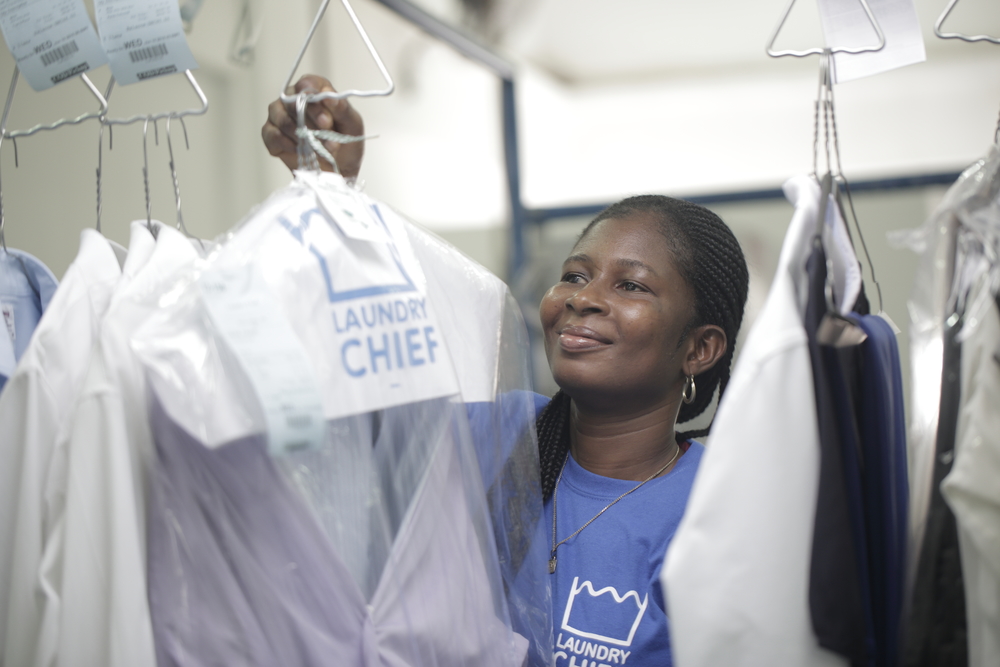 Although her supervisor, Ms Gifty Tsokpo, had found $ 600 in a customer's laundry two years ago and returned it, she said when Rhoda brought the money, "I was surprised because nowadays, it is not everybody who is faithful."
"A young girl like this found this kind of money and she was there alone, she could have chosen to do whatever she wanted to do with it. But she brought it to me. I was like 'Wow Rhoda! You've done well. God bless you.'"
To young people, she said "the system is hard now but if you are Christian, you can't help yourself. Let God help you. If you allow God to lead you, wherever you want to be, you will be there. Integrity and honesty should be our hallmark.
"The day customer came, he was amazed. He said you guys have really done well, the supervisor told theghanareport.com.
The company's Customer Service Manager, Ms Dorcas Asante, says over the years, Laundry Chief has consistently trained every new employee on integrity, which she says is making a lot of impacts.
"We've seen reports on social media and people calling to thank us. When she returned the money, I was so elated. I train the new people joining the company. Now to train somebody and for that person to exhibit the values, I was so happy," she says.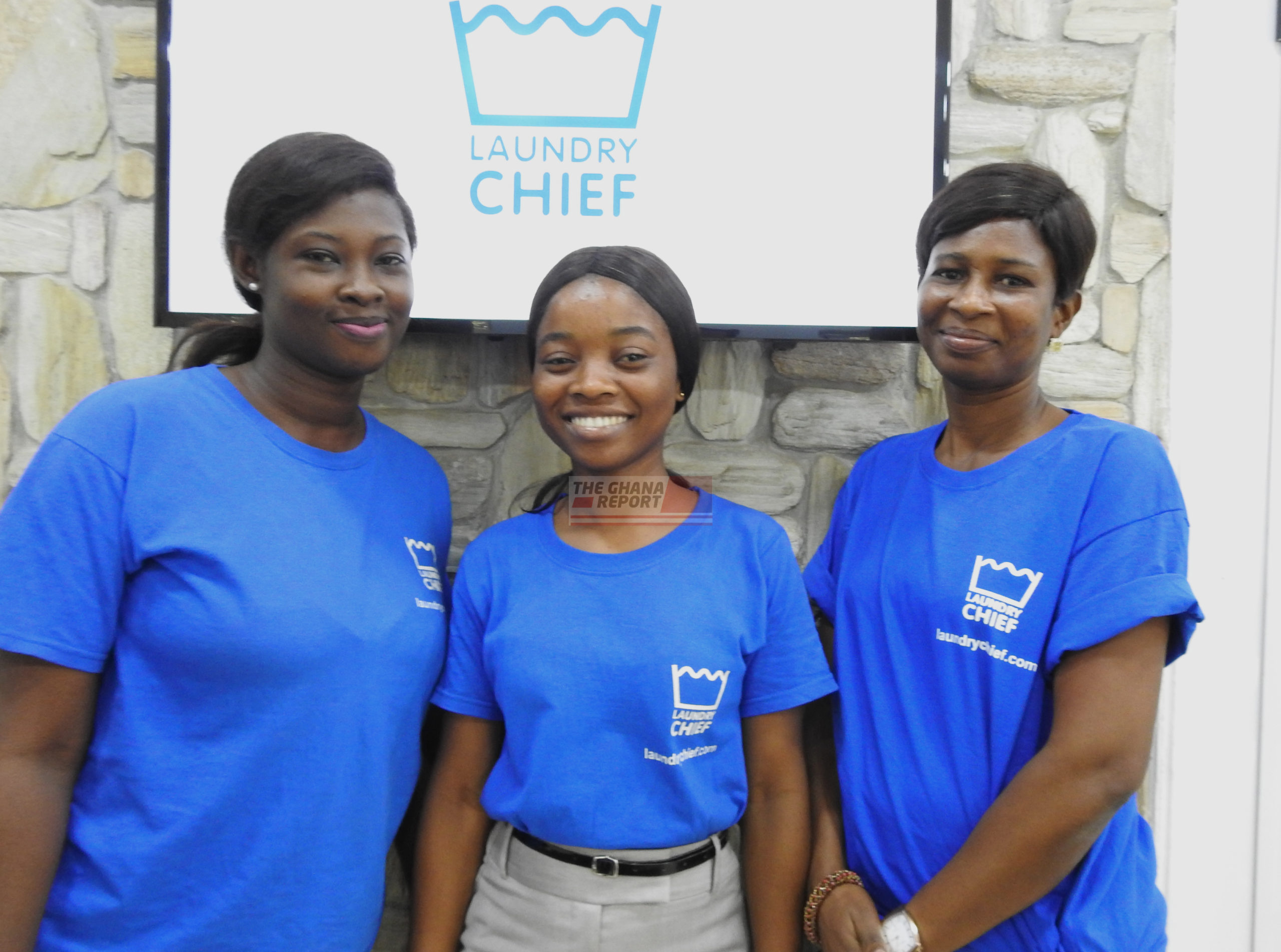 Training a Child the Right Way
Behind the Neoplan Ghana Limited in Achimota, a cloud of dust trails a moving vehicle, dodging bumpy potholes.
Not far away, a bare-chested man walks out of a public toilet fanning himself with his shirt.
A sound system blares loud music from a pirated-music seller's shop, adjacent to it is a compound house where Rhoda lives with her family.
Her mother, Mrs Helena Lamptey, sits opposite a quiet carpentry shop held together by plywoods that have seen better days.
Her father, Mr Herbert Lamptey busily arranges chairs and defers all questions to his soft-spoken wife.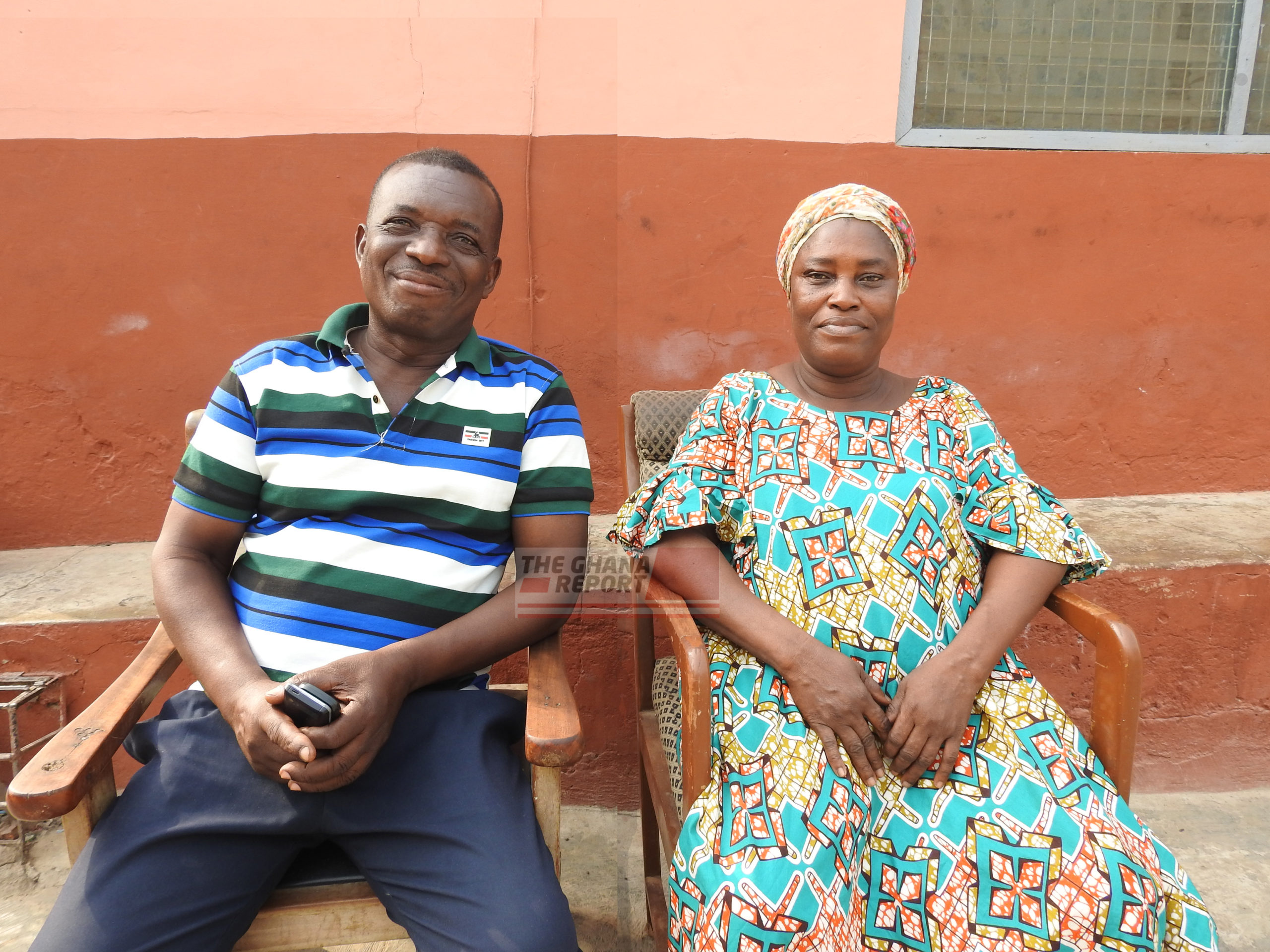 "We've always trained our children to appreciate the little they have and never to steal no matter the circumstance," she explains.
"I wasn't surprised when she told me about it because I used to share stories of when I was working with a white family and would find monies in corners in the house and give it to my boss," she said.
She described her daughter as a very humble and God-fearing person who will burst into tears when heavily rebuked. She always tries to do the right thing.
The calm Mrs Lamptey adds that  it's important, to be honest, "honesty even if it is not rewarding before humans, God rewards it."