Leadership Transition: CalBank Announces CEO Philip Owiredu's Retirement, Effective February 2024
CalBank PLC has announced the retirement of its Chief Executive Officer, Philip Owiredu, effective February 2024.
In a statement, the bank said the announcement of his retirement honours his 19-year career with CalBank and his leadership.
Mr. Owiredu joined CalBank as Director of Finance in December 2004 and was appointed CEO in January 2020.
The bank said during his tenure, Mr. Owiredu led the institution through a period of considerable change and will be known for setting a bold strategy to deliver a leading technology-driven bank
Commenting, Board Chairman of CalBank, Joe Mensah, said, "During his tenure, Philip Owiredu has been an instrumental player in spearheading key operational aspects of the bank's growth and development, notably our digital innovation agenda, driving the expansion of our retail strategy since 2018 and maintaining a strong banking franchise. He has played a pivotal leadership role in the establishment of strategic local and regional partnerships which have underpinned the bank's growth".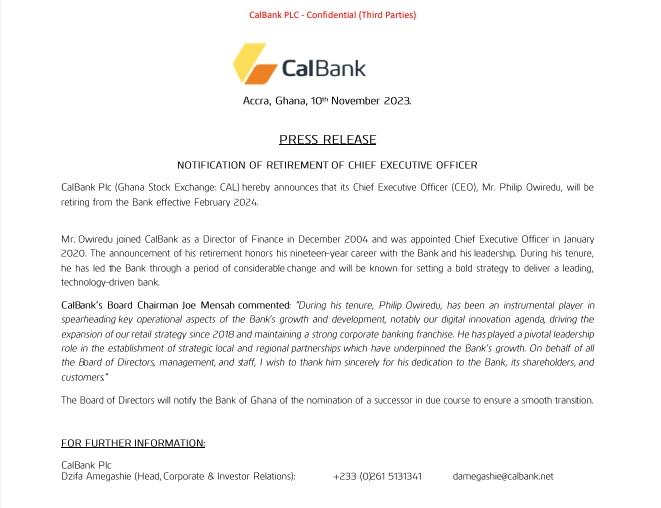 On behalf of the Board, Management and Staff, he thanked Mr. Owiredu sincerely for his dedication to the bank, its shareholders and customers.
The statement concluded that the Board of Directors will notify the Bank of Ghana of the nomination of a successor in due course to ensure a smooth transition.
It will be recalled that Joy Business had earlier reported that the MD of CalBank will soon exit from the bank.
Source: joy News