Seasoned on-air personality and actress Naa Ashorkor Mensah-Doku and WeGo Innovate, an edutech platform have launched a practical Science, Mathematics, Engineering and Mathematics (STEM) education campaign dubbed 'GH4STEM', Friday in Accra.
The campaign is being executed in partnership with the Ghana Association of Science Teachers (GAST), GH Scientific, the Ghana STEM Network and Exploratory.
Delivering the opening remarks at the launch, Naa Ashorkor described the GH4STEM campaign as a call to accelerate the promotion of practical STEM education.
"Most of us here studied science relying on our Aki Ola series, black and white text books and our imagination. We chew and pour pass and forget….Diffusion is the movement of a fluid from an area of higher concentration to an area of lower concentration…. You get your A and move on to the next. Thanks to the good work of GAST, GH Scientific, Exploratory and a few others, a more practical approach to science education is being introduced in many schools," she said.
Over the last 6 months, WeGo Innovate has filmed 100 JHS students performing science experiments in a competition dubbed the Junior Experimenters of Science Challenge (JUNEOS), which would air on TV soon.
These Videos would subsequently be worked into a platform, like an app where all Ghanaian science teachers can go to teach practical experiments using very simple ordinary things in the environment for instance in one of the experiments, the student used potatoes to conduct electricity.
She noted "this is the essence of critical thinking, problem solving skills and innovation which practical STEM education introduces.
About GH4STEM
Founder of Wego Innovate Charles Selorm Agbemashior detailing the campaign said "two years ago we embarked on this journey with GH Scientific, GAST, exploratory and the Ghana STEM network to bring to you this exciting project called the JUNEOS challenge. The JUNEOS challenge is an experiment based national STEM competition that is supposed to get teachers and student s to think differently about how they teach and learn STEM."
"The aim of this project is pretty much about inspiring students and teachers to think creatively, critically and innovatively about STEM and also leave them with something that makes them change their lives and their careers as they get into the career world," he noted.
He indicated "we started filming last year and we went to 100 schools across Ghana and interacted with 100 teachers and students. We were able to get 65 girls on to the program which is really cool for us."
Immediate past GAST President Rev Thomas Arboh on his part commended the initiative, pointing to the fact that the videos, after the challenge, will be made available to teachers around the country to use and teaching material.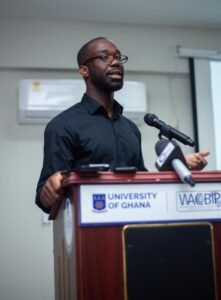 He said "one thing that is so impressive for me is that after we've done the media show and the videos and the media competition, it will be on Wego Innovate website and they are teaming up with GAST so that any of our science teachers who is going to teach a lesson can use some of these practical videos free of charge."
JUNEOS and SENEOUS Challenge
GH4STEM is an initiative promoting practical STEM education in our schools using the  Junior Experimenters of science (JUNEOS) and the Senior Experimenters of Science (SENEOUS) challenge is a science experiment competition amongst JHS & SHS students where students use basic things in the environment to create science experiments to explain otherwise complicated science phenomena.
The ultimate goal is to make practical STEM teaching and learning the norm at all education levels in Ghana using the JUNEOS and SENEOS challenge.
These challenges, drive the objectives of our STEM campaign for junior and senior high students. They are experiment-based national STEM challenge designed to get teachers and students thinking differently about how to teach and learn STEM.
A student-led science challenge that integrate video, storytelling and practical, innovative applications of STEM theories to produce high-quality educational content for teachers and students.
Based on a national curriculum, both challenges draw out key skills that students can apply throughout their lives: critical thinking, innovation, and collaboration where students use basic things in the environment to create science experiments to explain otherwise complicated science phenome.
While some teachers are being trained in practical STEM education by Ghanaian government and individual organisations like GAST and GhScientific, many teachers lack this important access and their students are consequently left behind. Now, the experiment vidoes created over the course of the JUNEOS and SENEOS challenge can serve as practical STEM learning aids and resource tools for all teachers and students."
About Wego Innovate
WeGo Innovate is an Edutech platform that collaborates with schools and other academic institutions to transform educational content into fun, interactive platforms and tools that inspire students and educators, regardless of their degree of access to resources.
It believes that making learning engaging is an under-utilised approach in Sub-Saharan Africa.
The outfit focuses on Science, Technology, Engineering and Mathematics (GH4STEM: JUNEOS & SENEOS Challenge), functional literacy ('Learn A Word Today,' 'Read to Comprehend project.') and Life skills ('Dinnim,' a game of simulation about career and life choices.)
The #Gh4STEM campaign rolls out today Monday 17th February.
Watch GH4STEM sample video here: