A former member of parliament for the NPP Francis Addai-Nimoh has written to the party leadership expressing concerns over the difficulties he is facing in buying the party's parliamentary nominations forms.
According to him, executives in the Mampong Constituency are making it difficult for him to procure the forms in order to contest in the upcoming primaries.
In a letter to national executives sighted by Starr News, the one-time presidential candidate said: "I wish to appeal to be permitted to purchase a copy of the 2020 parliamentary primaries nomination forms at the Regional Secretariat.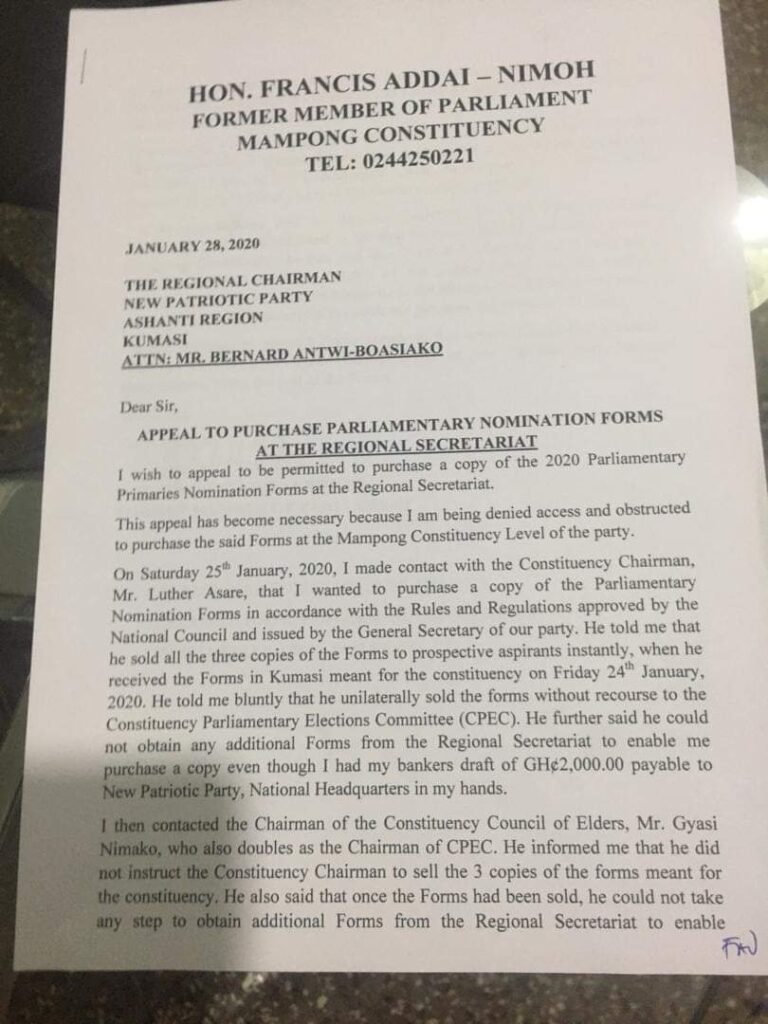 "This appeal has become necessary because I am being denied access and obstructed to purchase the said forms at the Mampong Constituency Level of the party".
Meanwhile, President Akufo-Addo has picked forms to contest the presidential primaries of the governing New Patriotic Party.
The forms were picked for the President at the party's headquarters by Director of Research at the Presidency Victor Newman at a non-refundable fee of GHc20,000  Monday.
Aspirants are to present GHC200,000 when submitting their forms.
The NPP will hold its presidential primaries on April 20, 2020.
The President has called on Ghanaians to give him four more years to continue his agenda for the state.
"Having achieved all these significant milestones, even in the midst of the difficulties we met, I am hopeful that the Ghanaian people would reward my party with another resounding victory in 2020. We will not be complacent, and we will work hard for victory, regardless of the fact that 'One Good Term Deserves Another'. We need four more years to do more!," he said at an event in Accra.