Provide life jackets to pupils and staff in island communities – Eduwatch to GES
An education advocacy group is calling on government to provide life jackets to pupils and staff in island communities who commute by water.
The call by Eduwatch Africa comes in the wake of some eight students drowning in the Volta Lake in the Sene East District on their way to school.
In a statement commiserating with families of the deceased pupils, Eduwatch Africa said it is saddened by their death.
The group therefore called on the Ghana Education Service and other relevant stakeholders to roll out measures to avert such disasters in the future.
According to the group, the provision of life jackets to pupils and staff in water bordered schools in rural areas, will go a long way to safeguard their lives.
"While stories of school children drowning while commuting to or from school may not be new, this must end.
"In the immediate term, we urge the Ghana Education Service (GES) to facilitate the availability of life jackets to all school children and staff who sail to and from school, not only in the Sene East district, but all other 'island and settler communities' where children and staff commute by water transport to school.
The GES should in collaboration with the relevant state agencies, facilitate health and safety orientation sessions for all its pupils and staff in island communities", portions of the statement read.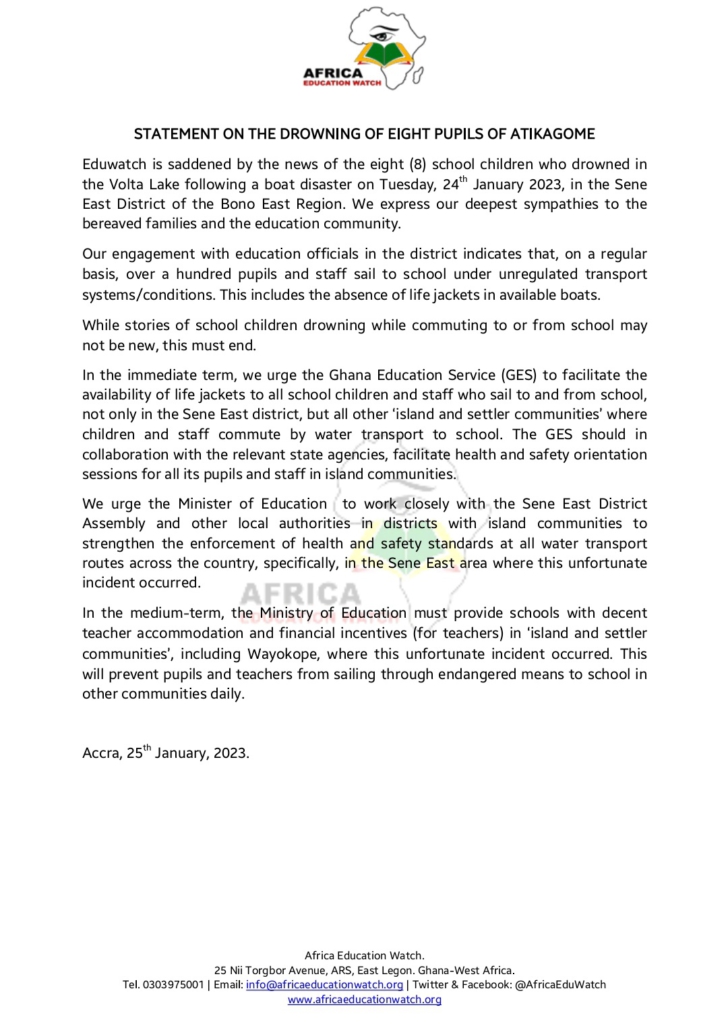 The group also called on the Ministry of Education to "provide schools with decent teacher accommodation and financial incentives (for teachers) in 'island and settler communities', including Wayokope, where this unfortunate incident occurred".
This, according to Eduwatch, "will prevent pupils and teachers from sailing through endangered means to school in other communities daily".
Meanwhile, Eduwatch called on local authorities to throw more light on safety precautions, especially for children of school going age.
Eight school children drowned in the Volta Lake following the capsizing of a boat on which they were travelling.
According to the National Disaster Management Organisation (NADMO), the deceased were among 20 pupils who were in the boat travelling from Atikagome to Wayokope, where their school is located.
Twelve pupils however managed to swim to safety.
The eight deceased, NADMO says comprises five boys and three girls between the ages of five and twelve.
The Sene East District Director of NADMO, Ibrahim Wudonyim, told Graphic Online that before they got to the accident scene, some community members and Marine Police had managed to retrieve all eight bodies from the Lake.
He explained that the incident happened around 7:00am on Tuesday and that the boat capsized midway.
The bodies of the deceased have since been sent to Atikagome, a fishing community.
The community has also been thrown into mourning, shock and fear as a result of the incident.
Source: Myjoyonline.com