The Bank of Ghana (BoG) has directed financial institutions in the country to desist from the payment of dividend of whatever form to their customers.
According to the Central bank, the move is to ensure that the banks are in good shape to assist customers through the period of the pandemic.
"In furtherance of the above, and to ensure that banks and SDIs are better able to support their customers throughout the COVID-19 pandemic, to absorb any potential operational losses for banks and SDIs from the COVID-19 pandemic, the Bank of Ghana now directs that all banks and SDIs desist from declaring and/or paying any dividends or distributing reserves to shareholders, and from making any irrevocable commitments regarding the declaration or payment of dividends to shareholders, until further notice.
"For the avoidance of doubt, shareholders in this context means holders of Common Equity Shares (CETI) and Additional Tier I (AT1) capital instrument of banks and SDIs," the bank said.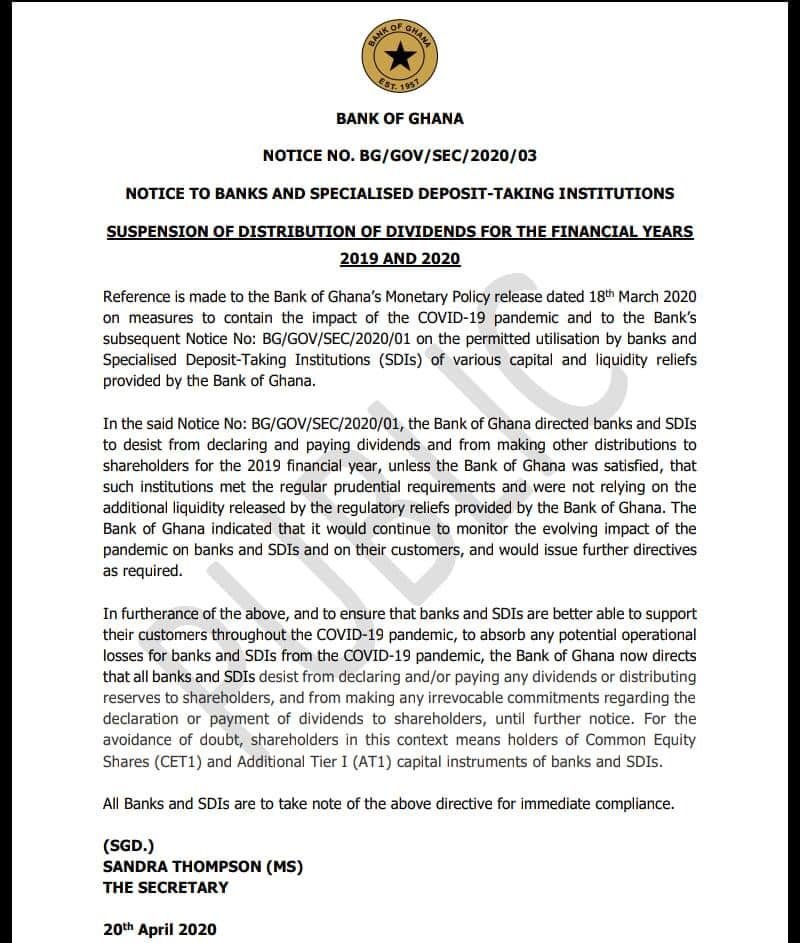 President Akufo-Addo has  noted that his administration was compelled to lift the restriction on movement in Greater Accra, Kasoa and Greater Kumasi because consistently, test results over the last three weeks have remained constant in terms of infection rate, death rate, persons who are moderately ill, amongst others.
"It is that constancy, that robustness of the data that we have in Ghana, that is inspiring our decisions," President Akufo-Addo said.
"As President of this country, I cannot also ignore the impact that this lockdown is having on several constituencies of our country, specifically those who are a very important part of the Ghanaian equation, the people who live, if you like, 'hand-to-mouth,' informal workers who need to have a day out in the market one form or the other for their families, who are having a lot of difficulties," President Akufo-Addo added.