We're all trying hard to find ways to reuse, recycle and reduce plastic use, and an Indian scientist has created a technique to make streets in our nation out of recycled plastic that not only makes better roads but also takes care of the waste problem.
Moreover, for his research and contributions to society, he was also awarded Padma Shree in 2018. Meet Rajagopalan Vasudevan.
Meet R Vasudevan
R Vasudevan, the genius behind this creation has completed his Master's in Science from Madras University. He also completed his PhD from there in 1974. Post that he started teaching at Thiagarajar College of Engineering, which he continues to do even today.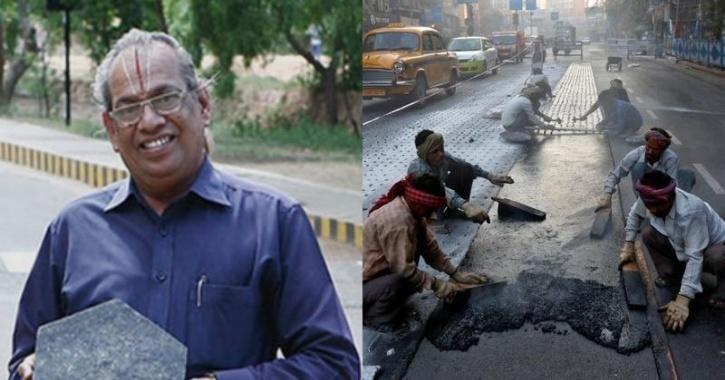 Just like all of us living in metros with more potholes than the streets, Vasudevan thought plastic held the key to eliminating the easily-causing potholes while also recycling plastic instead of dumping or incinerating them.
How are plastic roads created
He fused regular tar that is used to construct roads with plastic. He took the help of a polymerised mix in the road construction. For every kilo of stone, 50 gms of bitumen are used and 1/10th of this is plastic waste; this reduces the amount of bitumen being used.
Plastic increases the aggregate impact value and improves the quality of flexible pavements.
Now the inclusion of plastic helps the roads to be twice as strong as regular tar road. With plastic, the roads are not as susceptible to disintegration and potholes as a conventional road as moving or stagnant water has no effect on the surface.
Implementation of the technique
His technique is being applied today by panchayats, municipalities, even the NHAI. Recently NHAI revealed that it's pushing for plastic waste to be used in highway construction, especially National Highways, within a 50km border of urban areas with a population of 5 lakh or more.
"Ministry of Road Transport & Highways has embarked upon a mission for utilising waste plastic in a big way. It has mobilised nearly 26 thousand people across the country for spreading awareness on plastic waste management. Over 61 thousand hours of shramdaan has been given to collect plastic waste. This has resulted in collection of nearly 18 thousand kilograms of waste plastic throughout the country," the ministry said in a statement.
India already has over 100,000 kilometres of roads made of plastic, with more regions getting engulfed in this with time.
Plastic roads around the world
Not just in India, R Vasudevan's techniques are also being applied by various countries across the globe.
Plastic roads with similar techniques are being built in Indonesia using a plastic-asphalt mix in many areas including Bali, Surabaya, Bekasi, Makassar, Solo and others.
Plastic roads were also constructed by Dutch company Volkerwessels for cyclists in Zwolle, in the northeast part of the Netherlands.The United Kingdom is also announced that it will invest £1.6 million for the trial of plastic road technology, in collaboration with MacRebur — an asphalt enhancement company, that will implement technology developed by R. Vasudevan with some of their own secret compounds to make roads last longer. It is currently being implemented in cities like Gloucester, London, Durham.