Top 10 Powerful Billionaires in Asia: Net Worths and Rankings.
In 2023, the world's richest man is Bernard Arnault with US$211 billion in the bank, thanks to his ever-growing luxury empire LVMH, per Forbes. Even Tesla and SpaceX CEO Elon Musk is now trailing behind with his US$180 billion net worthwhile Amazon founder Jeff Bezos placed No 3 with his US$114 billion net worth, states the Forbes rich list that was unveiled in April (which we also referenced for the other net worths mentioned in this piece).
As Asia continues to grow and dominate the global economy, a select group of billionaires from the region have emerged as some of the most powerful and influential individuals in the world. They not only hold massive wealth, but also have significant business ventures and philanthropic initiatives that have made a substantial impact on the region and beyond.
Whether it's Jack Ma's vision for a global e-commerce platform or Mukesh Ambani's investment in renewable energy, the impact of these powerful billionaires will surely continue to be felt for years to come.
Let's see which Asian billionaires are not only making strides in global business but also leaving a legacy behind.
1. Mukesh Ambani – US$87 billion
Chairman and largest shareholder of Reliance Industries, India's most valuable company, Mukesh Ambani's net worth stands at more than US$87.1 billion. He holds the position of the richest person in India as well as Asia. Ambani has also made significant investments in areas such as telecoms, energy and retail across the urban and rural regions of India.
Through Reliance Foundation, Ambani's philanthropic initiatives include efforts in education, digital literacy, disaster relief, healthcare and rural development.
2. Zhong Shanshan – US$62 billion
Founder of Nongfu Spring, a leading bottled water and beverage company in China, Zhong Shanshan's net worth is more than US$62 billion. He also founded vaccine maker Beijing Wantai Biological Pharmacy Enterprise, which has been a major supplier of Covid-19 testing kits in China and across the world. His philanthropic efforts are in the space of education, clean drinking water in the rural areas of China, sustainability and poverty alleviation.
3. Zhang Yiming – US$45 billion
Co-founder and former CEO of ByteDance, the company behind the popular short-video app TikTok, Zhang Yi-ming's net worth is at about US$45 billion. Zhang is known for his vision of using artificial intelligence to create personalised content and has been involved in various philanthropic efforts in China, including Covid-19 relief and various educational and environmental initiatives.
4. Gautam Adani – US$44 billion
Chairman of the Adani Group, an Indian multinational conglomerate with interests in sectors such as energy, infrastructure and defence, Gautam Adani's net worth stands at over US$44 billion. Adani has also been involved in various social and environmental initiatives, across education, sustainability, clean energy, wildlife conservation and Covid-19 relief.
5. Li Ka-shing – US$38 billion
Li Ka-shing, often dubbed "Superman", is a business magnate and philanthropist from Hong Kong with a net worth of over US$38 billion. He built a vast business empire through his conglomerate CK Hutchison Holdings, which has interests in sectors such as ports, retail, telecommunications and energy.
Li is known for his strategic investments and business acumen, and has been actively involved in philanthropy, donating significant portions of his wealth to education, healthcare and social causes. He is widely respected for his entrepreneurial achievements and his commitment to giving back to society.
6. Tadashi Yanai – US$37 billion
Founder and CEO of Fast Retailing from Japan, the parent company of Uniqlo, Tadashi Yanai has built a net worth of over US$37 billion. He has also been involved in various philanthropic initiatives, including disaster relief efforts, which demonstrate a commitment to social welfare, education and sustainability, both in Japan and around the world.
7. Pony Ma Huateng – US$35 billion
Founder and CEO of Tencent, a Chinese multinational conglomerate, Pony Ma Huateng's net worth is upwards of US$35 billion. Headquartered in Shenzhen, Tencent is known for its social media and gaming platforms.
Ma has also been involved in philanthropy and environmental initiatives, including the Tencent Foundation, which he established in 2007. The foundation focuses on promoting education, supporting disaster relief efforts and providing assistance to underprivileged groups in China. It has donated millions of dollars to various causes, including building schools, providing scholarships and supporting healthcare programmes.
8. Robin Zeng – US$34 billion
Robin Zeng, also known as Zeng Yuqun, is a Chinese entrepreneur and the founder of CATL (Contemporary Amperex Technology Co. Ltd.), one of the world's largest manufacturers of lithium-ion batteries for electric vehicles. With a net worth of over US$34 billion, Zeng has been instrumental in driving the development and adoption of clean energy solutions globally.
His philanthropic efforts are focused on sustainability and environmental causes. Through CATL's innovative battery technology, he has indirectly contributed to the advancement of clean transportation and the reduction of carbon emissions.
9. William Lei Ding – US$28 billion
Founder and CEO of NetEase, a leading Chinese technology company with interests in e-commerce, gaming, and internet services, William Lei Ding boasts a net worth of US$27.9 billion.
Ding has also been involved in philanthropic initiatives, including the establishment of the Ding Foundation, which focuses on supporting educational programmes and initiatives that benefit underprivileged students and communities, with a particular emphasis on science and technology education.
US$3.5 billion? Sam Bankman-Fried and FTX's most outrageous purchases
12 May 2023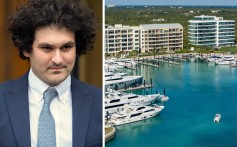 10. Jack Ma – US$24 billion
The founder of Alibaba Group, one of the world's largest e-commerce companies and the owner of the South China Morning Post, Jack Ma's net worth is over US$23.8 billion. He has also been involved in philanthropic initiatives, including the establishment of the Jack Ma Foundation, which focuses on entrepreneurship, education, women's leadership, medical support and environmental protection.
Source: Scmp.com